Lily's Kitchen Plant Based Dog Food - Vibrant Rainbow Stew 150g (Case of 10)
Vibrant Rainbow Stew from Lily's Kitchen!

This is a nutritionally complete plant based dog food made with carefully selected wholesome, plant ingredients including courgettes, carrots and lentils.

Made with specially selected plant based ingredients and added with vitamins and minerals, this balanced vegan dog food, makes for a nutritious meal.

This vibrant, tasty, healthy balanced wet food is infused with a blend of botanicals and herbs to make this an extra special dinner!

This entirely plant based dog food has a vet approved recipe, for extra reassurance your dog is getting complete nutrition with this meal.
Product tabs
Nutritional Info

Composition:
Potatoes (10%), Courgettes (6%), Carrots (6%), Millet, Lupin, Lentils (3%), Peas, Pea Protein, Sunflower Seeds, Sunflower Oil, Minerals, Yeast, Chia Seeds, Algae, Parsley, Basil.
Botanicals & Herbs:
Golden Rod, Nettle, Aniseed, Rosehips, Marigold Petals, Cleavers, Kelp, Alfalfa, Milk Thistle, Dandelion Root, Burdock Root, Celery Seeds.

Additives (per Kg):
Vitamins: Vitamin D3 200 IU, Vitamin E 30mg, Vitamin B12 75μg, Vitamin A 10,000IU. 
Trace Elements: Zinc (as Zinc Sulphate Monohydrate) 25mg, Copper (as Copper (II) Sulphate Pentahydrate) 1mg, Iodine (as Calcium Iodate Anhydrous) 0.75mg, Selenium (as Sodium Selenite) 0.08mg.
Technological Additives: Locust Bean Gum.

Analytical Constituents:
Crude Protein 6%, Crude Fat 4.2%, Crude Ash 2.1%, Crude Fibres 1.8%, Moisture 74%

Energy 99kcal/100g

Feeding Guide

Use this chart as a general guide along with your own experience, as the servings can vary with age, breed, exercise and even weather.

For overweight dogs, base your daily serving on target weight, not actual weight.

Usage Info

This is a nutritionally complete pet food for adult dogs 4 months+.

It has everything your dog needs to stay healthy.

Serve it at room temperature with a bowl of fresh water nearby.

Store in a cool dry place.

Once opened, keep it in the fridge and use within 2 days.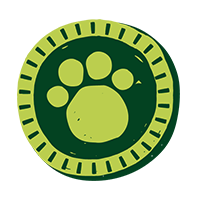 Earn
2
PawPoints
Recommend this product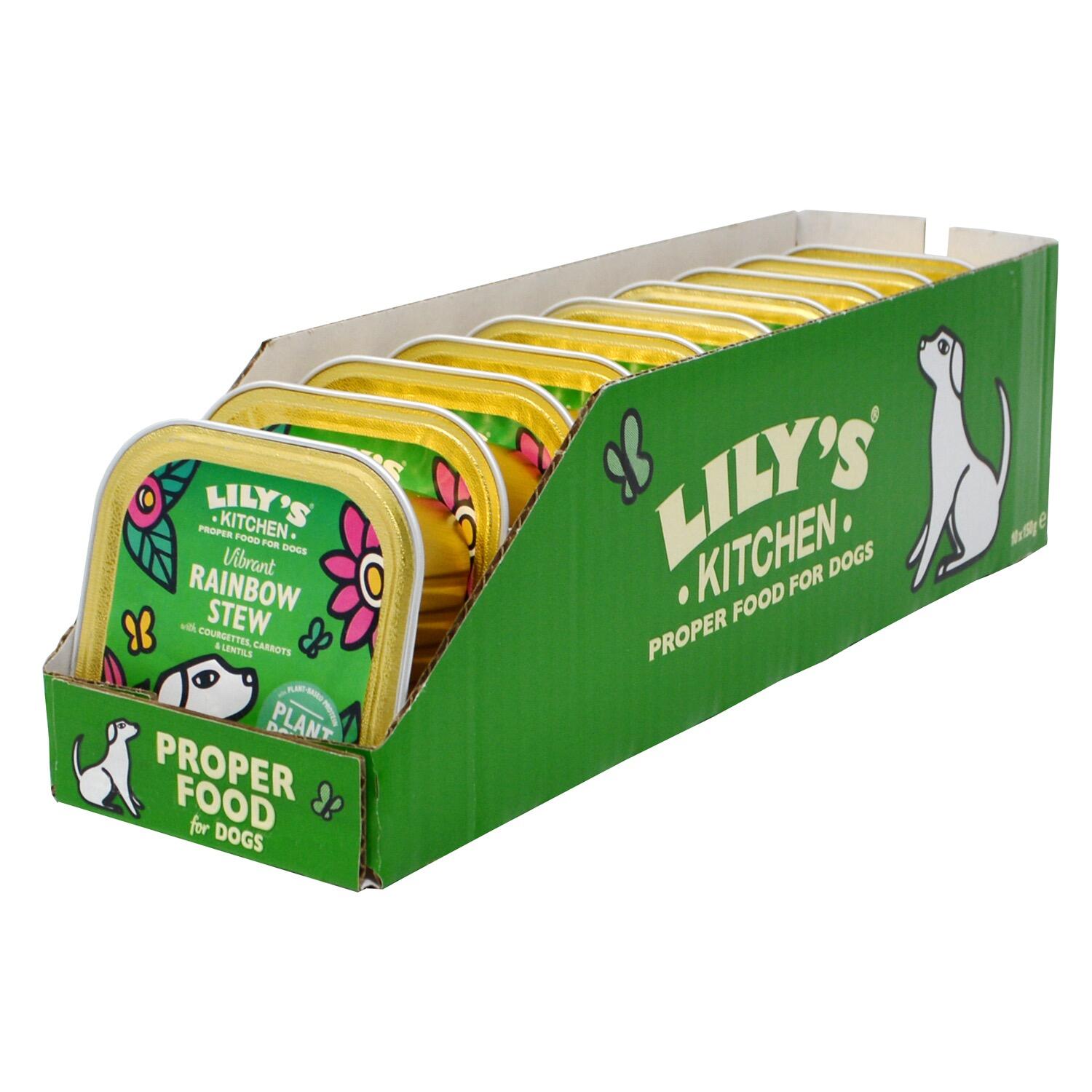 Lily's Kitchen Plant Based Dog Food - Vibrant Rainbow Stew 150g (Case of 10)